Your Follow Up Visits
Second Visit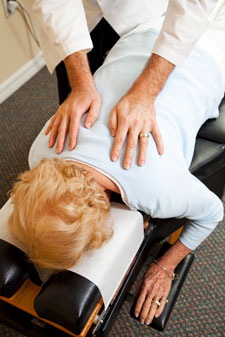 On your second visit you will again be greeted by our team.  You will be asked to fill out and sign the top of the daily soap note form (fill out means to mark on the figure the location of pain, rate current intensity of pain and frequency of pain, and new injuries Y or N…takes 5-10 seconds).
You will then be taken to the treatment room by Judy or Donna and any modalities that Dr. Kalkowski has recommended will be applied.  As soon as the modalities are complete or if there are no modalities being used, the doctor will enter the treatment room and perform Chiropractic adjustments and any relevant soft tissue work.
"While I am working, I will review the diagnosis, treatment plan, recommendations and prognosis (including individual advantages or disadvantages that may affect prognosis…ie smoking, and other adverse lifestyle habits, conditions vs healthy lifestyle and positive lifestyle habits that are in play)."
Dr. Kalkowski explains "I will then go over anything that you can do on your own between treatments, such as exercises or self administered soft tissue techniques, etc.  I will then hand you your chart an direct you to the front desk.  Donna or Judy will again collect payment, supply filled out HICFA form and reschedule your appointment."
A Typical Visit
During a typical visit you will usually be in and out in less than 20 minutes.  The doctor will certainly discuss any of the topics in the first and second visits as needed.  "I ALWAYS welcome questions on EVERY visit." exclaims Dr. Kalkowski.
Ready to get started with chiropractic care? Call Kalkowski Chiropractic Center today at (307) 587-1500.
---