Meet Cody Chiropractor : Dr. Vince Kalkowski
How it all began…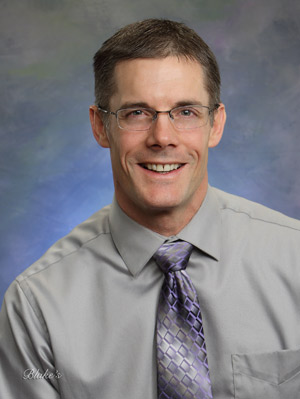 At age 13 I had a bad crash on my dirt bike that left me with 2 compression fractures in my thoracic spine. Since there is not much that can be done for compression fractures, I was given pain medication and told that the pain would get better with time.
As the fractures healed, the intensity of the pain reduced but never went away. By the time I was 14, I was experiencing constant pain and muscle tightness in my mid back. I also started to develop headaches that would cause visual disturbances, sweating and nausea. I was evaluated by a number of different medical specialists and none of them had any answers other than to continue controlling the pain with medication and steroid injections. This plan offered little relief and plenty of bad side effects.
After I had turned 15, my father recalled going to a Chiropractor years before for neck pain. He had good results, so with nothing to lose I tried Chiropractic. The first adjustment to my mid back was very startling, but I could tell right away that the root of my problem was being addressed. Within 4 or 5 adjustments, I was a new kid and for the first time in two years, I knew we had found something that was helping and it did not involve any drugs or shots!
Chiropractic Had Given Me My Life Back
Chiropractic had given me my life back. It had also sparked many questions in my mind, mostly wondering how and why this "Chiropractor" knew what to do for me yet all of the medical "experts" didn't. Needless to say, I was absolutely inspired from that point on to become a Doctor of Chiropractic.
"With nothing to lose, I tried Chiropractic. It changed my life forever."
My Chiropractic Education
I went to Palmer – Davenport. I went there because numerous practicing Chiropractors, including ones that didn't go to Palmer, told me it was the best. Also, as a college rugby player, Palmer offered an opportunity to play for one of America's best Men's Premier league teams and possibly earn a scholarship to help pay for my Chiropractic education. I was able to secure a scholarship from second trimester through tenth trimester. One of the most helpful, unplanned, fulfilling twists in my life.
Probably the most surprising thing about my education at Palmer was the reality of how demanding the curriculum was. The curriculum combined with rugby forced me into a level of personal organization that was as much a part of my education as anything.
I am very grateful that I was able to have Virgil Strang DC as an instructor. His ability to support all aspects of Chiropractic philosophy with the best available science was incredible. He drilled into our heads the differences between scientific conjecture, hypothesis, theory and law. Being able to know which level of science one is dealing with is very helpful as a Doctor of Chiropractic.
Family & Community Are Important To Me
I was born and raised in Casper, WY.  The Wyoming way of life and heritage are a huge part of who I am.  I love this state, what it stands for and the people who call it home.  I attended Casper College and the University of Wyoming.  I received my Bachelor of Science degree and my pre-Chiropractic requirements from UW.  When I started at UW, I was fortunate enough to become a member of the University of Wyoming Rugby team.  Our team was the first D1 Final Four team for UW.  I was blessed to be on a team with so many top notch players and coaches.  I could not have earned a rugby scholarship at Palmer to help pay for my professional education without that team.  I am a lifetime UW Alumni Association member.  I am married with two children. We have a fourteen year old girl and a fifteen year old boy. I met my wife in the Quad Cities while attending Palmer-Davenport. She grew up in a more rural part of East Moline (John Deere Headquarters) and always felt a draw to wind up out west. She has come to love Wyoming and its lifestyle as much as I do. I couldn't have asked for a better friend, companion, and partner in life.  As a family we try to put God ahead of anything else. After that we enjoy almost anything in the outdoors. Some of our favorite activities are camping, hiking, any form of dirt bike riding, fishing, hunting, alpine and nordic skiing, snowmobiling, and too many other things to list! Our son also plays soccer and football and occasionally races his dirt bike. Our daughter plays soccer, volleyball and basketball. She is also very talented at crafting. When we are tired out we like to gather up and watch a good movie.
Individually, my favorite things include:  spending time with my family, Crossfit, riding my dirt bike, skiing and snowmobiling in fresh, deep powder,  climbing to the top of a new mountain, fly fishing a mountain stream, hunting bull elk in the high country, and watching Palmer Rugby when I can.
I am a coach for our town's competitive soccer association and I try to always be involved with a mens bible study
I Walk the Talk
I get adjusted 1-2 times per week. I do Crossfit four times per week and occasionally compete within my age division. I would classify my diet as fairly clean, lots of fresh fruits and vegetables, plenty of protein, plenty of good fat, a reasonable amount of good carbs and good supplements.  I do my best to keep refined sugars and carbs to an absolute minimum.  I also do my best to adhere to a "no stress policy".  It is easier said than done, but it is extremely important to strive for a minimal stress level!
Enough about me! How can we help YOU to become a better you? Give us a call so we can help you take your first steps towards better health.
---